RAM and the Cummins 6.7L Turbo Diesel  a Legendary Unbeatable Combination of Rugged Dependability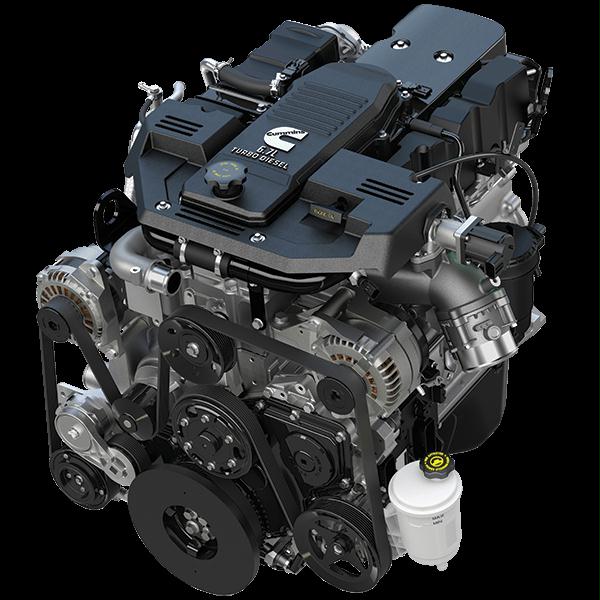 Ram 3500 Pickup
6.7L Diesel High Output, best in Class 1,075 lb-ft of torque and 420 horsepower, with towing rated at 37,100 lbs when properly equipped. 
When Chrysler was looking for a diesel motor for its Heavy Duty Ram Trucks, they looked no further than Cummins. These folks were in the business of producing diesel motors since 1919. The in-line six cylinder design had great advantages over the V8. Fewer parts than a V-8 with comparable displacement meant less frictional horsepower loss making it more efficient and easier to service, and it already had a record of hard-working dependable service. We have competitors with only a couple of year's experience building diesels, Cummins has over 93 years experience and has offered a 100,000 mile warranty since 1940.  
I've heard many testimonials over the years from customers regarding their RAM Cummins diesel powered trucks. One thing never changes, their loyalty is unshakeable. It was just fitting when one of our customers  nicknamed his old Ram with the Cummins diesel "Methuselah" for it's years of brawny reliable service. (In the bible a fellow named
Methuselah
 was said to be the oldest person to have ever lived - 969 years old!) 
Our 
RAM 2500
and
RAM 3500
Pickup Trucks with the Cummins 6.7L Turbo Diesel (Not High Output) is available with up to 375 hp and 850 lbs of torque (3500 Pickup) - the best in class low-end torque and launch capability,15,000 mile oil changes, a Smart Diesel Exhaust Brake, and a max towing of up to 22,600 lb.
Based on the legendary 5.9L for outstanding durability and dependability, it's in-line 6 cylinder requires 30% fewer moving parts than competitive engines.  Exceptional towing and hauling capacity. VGT Turbo Charger for superior throttle response. Comes standard with the most powerful integrated exhaust brake available in a heavy-duty truck - extending brake life by as much as three times. Also standard is a 5 year 100,000 mile warranty, best in class.
Learn about the benefits of Diesel Exhaust Fluid (DEF) below from our Sterling Heights truck specialist dealership:

Our Medium Duty Ram 3500/4500/5500 Chassis Cabs are available with the Cummins 6.7L Turbo Diesel.  When paired with the Aisin Automatic transmission the Cummins Turbo Diesel has 360 hp and 800 lb-ft torque - exceptional low-end torque and launch capability for towing and hauling capacity.  Also an available PTO (left or right side).  Available dual alternator with outputs up to 440 amps. 
Designed for the high-mileage rugged commercial market, our Cummins diesel comes standard with a "Smart" Diesel Exhaust Brake - the most powerful in a heavy duty truck. It has 2 settings, a more aggressive mode or one that closely matches current speed.
Horsepower and torque ratings are optimized for the "best fuel economy".  Diesel engine oil change intervals are increased up to 15,000 miles.  Also comes with a standard 5 year 100,000 warranty.   
If you would like more information about our RAM Trucks and the Cummins Turbo Diesel:
Please call or email Jim Colbeck at 
313-575-4334 
or jcolbeck@shdcj.com


We're glad you decided to stop by and learn more about our
RAM trucks
and Cummins Turbo Diesel engines
here at Sterling Heights Chrysler Dodge Jeep RAM! We hope you choose to contact us or stop by our
truck dealership near Macomb County, MI
to find your next RAM truck real soon!